Who are the Best Hard Money Lenders in Kansas 2023?
Finding the best hard money lenders Kansas is important to your investing success. Whether you're looking for a fix and flip loan or a BRRRR strategy, a bad hard money loan can set you back thousands of dollars. On the other hand, a good hard money loan from Kansas' top providers will give your business buying power and allow for exponential growth in less time than any other source of financing available out there.
Kansas has a small selection of local private money lenders. With that said, there are also several national lenders who are available to loan throughout Kansas. Rates on hard money loans issued to Kansas investors average a standard 10-11% with an average loan amount around $121.1k The median loan term is around 6-12 months. The mean hard money loan includes origination fees in the 2-4% range with standard LTV averages around 70-75%.
Here's our short list of the top 5 Best Hard Money Lenders in Kansas:
North Oak Investment LLC
KC Investor Funding
Crossroads Investment Lending
Peak Capital Funding
Stratton Equities
Top 5 Best Hard Money Lenders Kansas

1.

North Oak Investment LLC
Our first hard money lender in Kansas is North Oak Investment LLC. With one of the best Google reviewed profiles in the state, they are a premier source for investment hard money loans. As a full service lending company, they're able to offer funding and structuring of loans for investors in and around the Kansas City Missouri area for residential real estate rehab properties. At North Oak Investment, they are committed to continue providing superior Kansas City investor funding.
Here's some of their loan terms:
No Minimum Loan Amount
No Maximum Loan Amount
No Max / Min Repair Cost
1st Position Lien Only
Up to 80% Loan to ARV
Deposit decreases the more loans you've done with them
Most 1st-time borrowers put 10% down (refundable)
6 Month Term
Up to 3 Month Extensions
Construction Funds​​​ = Loan Amount, minus purchase price, minus our charges, minus​ other closing costs (realtor, taxes, gov. fees, title fees)

2. KC Investor Funding
KC Investor Funding is a Kansas City based hard money lender. They have an excellent google profile. They extend funding and hard money loans to borrowers throughout Kansas and Missouri.
They offer excellent terms for local borrowers including:
Up to 100% of the purchase and rehab costs
Terms of 6-12 months
9-12% interest rates
Closings in as fast as 10 days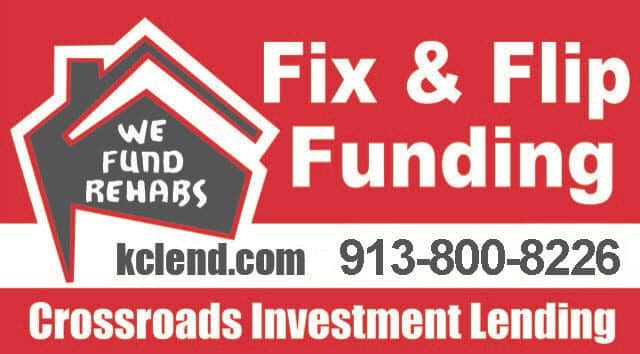 3. Crossroads Investment Lending
Our hard money lender is Crossroadss Investment Lending. They're based nearby in Kansas City. They're local and trusted across the Kansas City area. They have an experienced and professional team that provides fast and efficient private money lending. They're active in the area with rehab success on nearly 1,000 houses by providing quick financing for real estate investment loans.
They offer loans for flipping houses at extremely affordable rates. With a loan-to-value ratio (LTV) of 65%, the costs of funding for flipping are:
Property Assessment Fee: $450 due at time of request
Loan Origination Fee: 3.5–5% of the loan amount, minimum $2,500
Processing: $495
Document Preparation: $480
Administrative: $275
Wire fees: As applicable by bank/title company
Draw Inspection Fee: $175 per inspection, held from draw advanced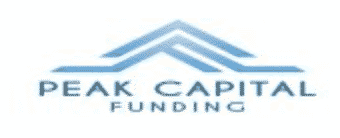 4. Peak Capital Funding
Peak Capital is our next Kansas hard money lender. They're a reputable nationwide lender based in Dallas. They offer several programs for rehab, rental, multifamily, commercial and more. 
Here's more information:
 LTVs up to 75%
Loan amounts from 250k – 10M
Rates from 10-12%
Terms from 12-24 months

5. Stratton Equities
Our final Kansas hard money lender is Stratton Equities. They are a leading Nationwide Direct Hard Money & NON-QM Lender that specializes in fast and flexible lending processes. Their team is owned and operated by experienced Real Estate Investors providing a reliable and knowledgeable team to help all Real Estate investors succeed. 
​Their Hard Money and Direct Private Money loan programs support the following investment projects:
Fix and Flip
Cash Out – Refinance
Fixed Commercial Loans
Commercial Bridge Loans
Bridge Loans
Stated Income/No-Income Verification Loans
Rental Loans
Foreclosure Bailout Loan 
NO-DOC
Blanket Loans
Fixed Rental Programs
Multi-Family Loan
Best Hard Money Lenders Kansas FAQ
Who is the best hard money lender in Kansas?
Here's our short list of the top 5 Best Hard Money Lenders in Kansas:
North Oak Investment LLC
KC Investor Funding
Crossroads Investment Lending
Peak Capital Funding
Stratton Equities
What do Kansas hard money lenders charge?
Hard money loans in Kansas range from 10 percent to 11 percent for shorter and mid range terms. Most hard money lenders also charge points or origination fees on a loan ranging from 2-4%.
Do Hard Money Lenders in Kansas require appraisals?
Many hard money lenders in Kansas will require an appraisal.
What is hard money in Kansas?
Hard money loans in Kansas are short term loans secured by real estate. These loans are used to purchase and/or rehab residential or commercial properties. They're more expensive than traditional bank loans but can be closed faster and with less credit requirements.
Our Kansas City Guides
Here are some in depth hard money guides for cities throughout Kansas: